Royal Guard
Beneath Yggdrasil, Other
Posts: 3,036
Joined: Dec 2011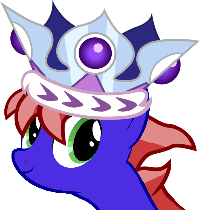 IArt Open!
Hello, you may call me SpaceKing. I do vector art of things, and I started quite recently. I've done quite a few of the AusBronies OC ponies, which I think (most) look good. I'm getting better as time goes on.
Anyway, I will be posting my art in this thread. Stay posted for art!
If you want me to draw something, don't hesitate to ask. Though I might take a while if the request is elaborate, like a scene or something. Usually drawing an OC pony head takes me around half an hour if I'm lucky, and everything more complex and larger increases the time.
My Imgur gallery of Pony drawings:
http://imgur.com/a/ODnwP#0
Also, because you all bugged me enough, my non-tracing work will be on Deviantart:
http://spacekingofspace.deviantart.com/